When on land, we're familiar with dish antennae. Look through your window, and you might spot one on the wall across the street, pointing at the sky, receiving satellite TV and internet straight from space.
But that won't work on a boat. A boat will constantly yaw, pitch, and roll. It will heave up and down. It could be pointing east one day, and west on the return voyage. No antenna can keep eye-contact with the satellite under those conditions.
In the early years of satellite communications, Robert J. Matthews invented an antenna that remained stable by relying on the principle of inertia.
He founded Sea Tel, Inc. to manufacture and market the antenna. Today, Sea Tel is part of Cobham plc, a British manufacturing company, and world-leader in air-to-air refueling systems.
Robert Matthews had designed a dish that would remain perfectly still even when the vessel under the antenna was being tossed about in a storm.
Nowadays as you can imagine, almost any vessel, any distance from shore will use a self-stabilizing maritime satellite antenna. Leisure yachts use them, aircraft carriers use them. So do fisheries, oil-tankers, cruise and cargo ships.
Robert Matthews' invention meant that nascent satellite communications technology could be applied to the maritime industry.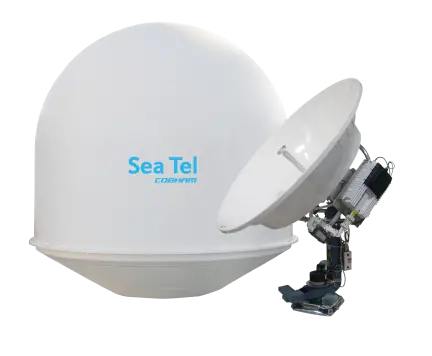 Sea Tel antennas were adopted on every type of vessel, resulting in five distinct market segments: Leisure Yachts, Commercial Vessels (cruise and cargo ships), Military, Oil & Gas, and Fisheries. Soon, the brand was being marketed across the world -- anywhere there is shipping, with a product line of 32 different models designed for every type of maritime application. Sea Tel gained immediate majority market share.
Cobham appointed Tungsten as its advertising agency for the Sea Tel division, with the objective of creating a powerful central idea for the brand, and executing that idea across every consumer touch-point, worldwide. This includes corporate brand-building in trade magazines published from every shipping center around the globe, tactical advertising in print, online display advertising, social media in Facebook, Twitter and YouTube, video production, poster design, brochures, pamphlets and collateral materials, trade-show booth design, fabrication, executing product photography, public relations in maritime and satcom trade journals, white papers for each product, cartography and mapmaking, printing, media planning and worldwide media buying, internal training materials, and all other full-service advertising services that the brand may need.
Tungsten has rare knowledge and expertise in maritime and satellite communications products and services. If you are a marketer with a maritime product targeted at a specific geo or worldwide, Tungsten would like the opportunity to talk to you about your brand, regardless of where in the world your company is headquartered. We're in San Francisco, California